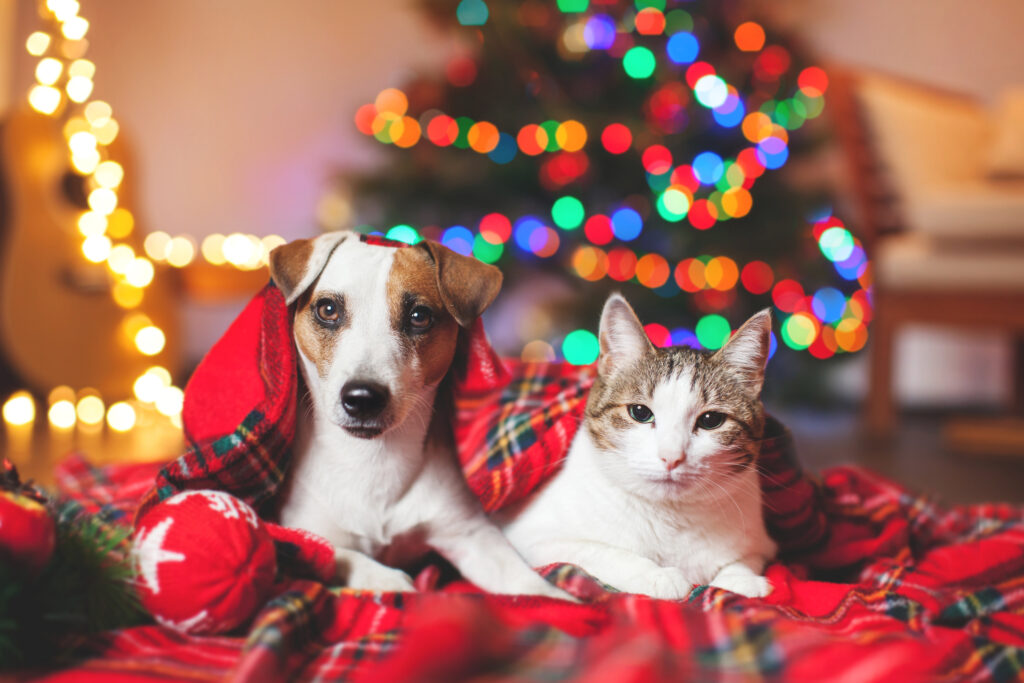 Are your holiday decorations pet-proofed? Everyone deserves a happy and healthy holiday season, even your furry friends. Here's our holiday gift to you: a few tips to keep the whole family safe this December!
🎄 Broken ornaments can be a choking hazard and cut your pets' paws and/or mouth. So, if you have a Christmas tree, place fragile ornaments towards the top of the tree and plastic or fabric ones towards the bottom.
🎁 Skip the tinsel if you have a cat. Tinsel can severely damage a cat's intestinal tract and even prove deadly if ingested.
🎄 Ribbons or strings on presents or decorations can be a choking hazard for curious pets, so tuck those loose ends away.
🎁 Electrical cords can easily become a chew toy for puppies and playful pups. Run the cords through PVC pipe or an extra cardboard roll of wrapping paper, or simply tuck them away to protect your furry friends from an accidental electrical shock.
🎄 While chocolate may be a holiday staple for people, it is toxic for cats and dogs, so desserts should be securely stored away. If you want to include your pets in your holiday snacking traditions, consider special pet-friendly treats!
🎁 Poinsettias, holly, mistletoe, hibiscus, and potpourri are very dangerous if consumed by a cat or dog. Place those plants far out of your pets' reach or use fake plants.
🎄 Many snowglobes contain ethylene glycol (antifreeze) which is highly toxic, and even fatal, to all pets. Keep your snowglobes in a very safe location so they don't run the risk of breaking.