Meet Our Team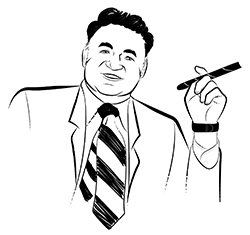 Cy Smoller
Cy, a graduate of Chelsea High School (1946) and attended NYU before serving in the Army, served as manager of the Winthrop branch of the Metro Credit Union while founding Smoller Insurance Agency in 1953 on Atlantic Ave. in Boston. In 1976 he moved the agency to 335 Boylston Street, Newton, MA where it still stands today.
Community service and engagement was very important to Cy. He served as President of the Temple Reyim Brotherhood, as Co-President of the Temple Reyim PTA with his wife Jo-Anne, the Board of Directors for Metro Credit Union and Wollaston Credit Union, President of the Winthrop Rotary Club, Board member at the Brookline, Brighton, Newton Jewish Community Center and Vice President of Camp Bauercrest as well as an Honorary Life member of the Bauercrest Board.
Cy was all about family and service. He built his practice on knowledge, trust and making those with whom he did business feel like family. He always preached "anyone could get an insurance license, but to be successful, one must be responsive, compassionate and available to service clients in need." This lesson was passed on to his children, Mark & Judy, his grandchildren Billy, Rachel, Ian & Sam, and his great-grandchildren, Gabe, Emma & Sophie. For as long as the family continues to grow and expand Smoller Insurance Agency, Cy's legacy teachings will live on!
Fun Fact: Cy was the captain of his high school basketball team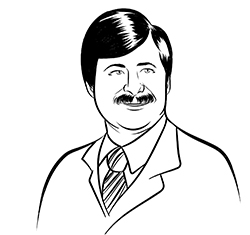 Mark Smoller
Mark, a graduate of Newton South High School and UMass-Amherst, started his insurance career in 1977 selling life insurance for State Mutual of America. He stayed with SMA from 1977-1994 during which time he was Inducted into the State Mutual Hall of Fame for averaging a sale a week for 10 years and became a Chartered Life Underwriter (CLU) in 1984. Mark then moved to Penn Mutual from 1994-1996, where he was awarded the agency leader in policies written in 1994.
Following in his father's footsteps regarding community service and engagement, Mark was a volunteer coach for soccer, basketball, baseball and softball in Needham for over a decade. He has also served on the Board of Directors of the old Brookline, Brighton, Newton Jewish Community Center, where he was the Membership chair. He is currently the Chairman of the Board at Metro Credit Union, a Board he has sat on since 1999. Mark was President of the Camp Bauercrest Board of Directors for 15 years, a Board he first was elected to in 1987 and currently serves as an Honorary Lifetime Past President.
His philosophy is to "give back". Both in the community and to his clients. "It's about engagement and availability…lessons passed down to me by my dad…and a lesson I've passed on to my children, Billy and Rachel.
Fun Fact: Mark served as Chancellor of his fraternity, Tau Epsilon Phi in 1976.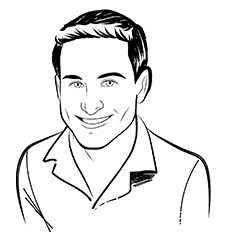 Billy Smoller
Billy Graduated from Needham High School in 2003 and UMass-Amherst in 2007 with a BA in Sports Management. After spending 15 months at Metro Credit Union in their management training division, he decided to join the family business in January of 2009. Since that time, he has helped in tripling the size of the company and bring a modern feel to its throwback style.
Starting as young as 14 years old, Billy has always been an avid volunteer in the community. It started with umpiring Needham Little League and refereeing Needham St. Joes basketball games, and then graduated to coaching. Like his father, grandfather and great-grandfather before him, Billy has served on the Board of Directors at Camp Bauercrest for the past 10 years, chairing a number of committees.
Billy is a very family and relationship-oriented person. When you become a client at Smoller Insurance, you become part of the family. His goal is to always make the members of the Smoller Insurance family feel heard, safe, and welcome.
Fun Fact: Billy Co-Hosted a short-lived radio show on Money Matters Radio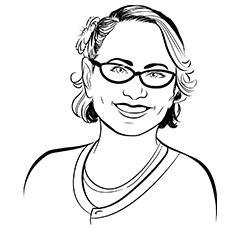 Lovelynn Ivey
Lovelynn, a California native, has over 20 years' experience managing companies. She has owned her own business, grown small family businesses, and developed profitable divisions of large companies.
Community involvement is also close to Lovelynn's heart. She served on the boards of Meeting Planner's International, Association of Bridal Consultants, and Temple Shalom of Newton. Her volunteer work spans from Brides Against Breast cancer, to Mito Action to Medicines for Humanities. She has passed these passions on to her children who volunteer for the Newton Food Pantry, Temple Shalom of Newton and Heifer International.
Lovelynn's passion for marketing gives her a unique client facing perspective to preserve Smoller Insurance Agency's culture of doing whatever it takes to help the client feel save. You will find her behind the scenes keeping the agency running smoothly so the team has all the tools they need to assist our family of clients.
Fun Fact: After an early career in dance, theater, and film, Lovelynn became an Event Producer for many years. During that time, she served as the technical advisor on the blockbuster movie "Wedding Crashers" and even plays a wedding planner in the movie.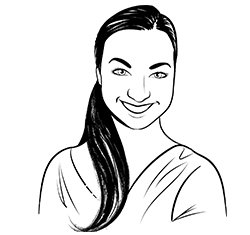 Danielle Johnson
Danielle is a graduate of Woodstock Academy and Southern New Hampshire University. She began her career in insurance working for Mapfre Insurance as a Personal Lines Producer over 5 years ago and brings a wealth of experience across the personal lines of insurance, offering solutions based on individual and family needs. Danielle has proven herself to be an exceptional resource and ally for all her clients over the years. Her insurance expertise covers the entire New England area, with licensing in Massachusetts, Connecticut, Rhode Island, and New Hampshire. Danielle joined Smoller Insurance Agency in 2020 and is known for providing top notch customer service no matter what the task is. In the same year that Smoller appointed Traveler's Insurance, Danielle received their prestigious S.T.A.R. Award (Superior Travelers Agent Recognition). Danielle continues to uphold these high standards in all her work.
Danielle resides in Connecticut with her husband and daughter and maintains a strong connection within her hometown community. She is involved with various outreach organizations such as the United Way and the Pomfret Recreation committee.
Fun Fact: While in California, Danielle was featured in an episode of "Food Paradise", a show on the Travel Channel!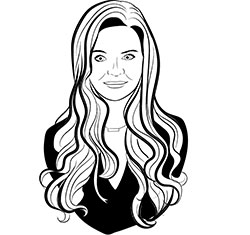 Erica Keller
Erica is a graduate of Johnson and Whales University and began her career in insurance working as the billing specialist. Working her way up to an insurance agent, she primarily focused on personal lines until she started her journey with Smoller Insurance Agency in August of 2021. Erica has grown to be an expert in both personal lines and commercial lines policies and is a great benefit to our family having her knowledge of both sides to the business. Always learning, she is willing to jump in headfirst to any challenge, help her team, and give any new task a try!
Erica resides in Foxboro, so we all know who she roots for on Sundays! She owns a dog, named Gia who is her whole world, and is very involved in the animal community, whether it be fostering a rescued canine or donating to local shelters. Every Christmas, Erica and her friends and family donate toys, beds, foods, blankets, cleaning supplies etc., and she brings it to a local animal shelter.
Fun Fact: Erica has been to 36 Islands. Ask her about them.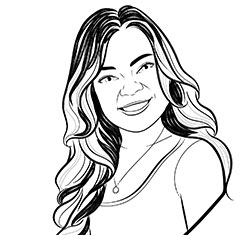 Taryn Masse
Taryn was born and raised in New Hampshire and has been in the Insurance industry for four years. She specializes in Commercial Lines and loves getting to know her customers and building relationships with each and every one of them. She has been part of our team since January 2022, what a great way to start off the new year! Though she lives two hours away from our office, she still makes it a point to visit us & see her Smoller family.
When Taryn is not doing insurance, she enjoys seeing her friends, eating Mexican food, and spending time with her Dachshund/Chihuahua mix named Finley. As a dog mom, Taryn is very passionate about all thing's animals, and participates in the ASPCA Paws Walk every year. This event helps raise funds that provide lifesaving care for pets in need.
Fun fact: Taryn has lived in both Fort Bragg, CA and San Diego, CA.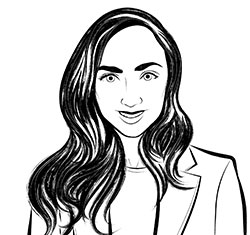 Sarah Flynn
Sarah grew up in Danvers, MA before moving to Epping, NH with her fiancé, two sons, and three dogs. She began working as an insurance producer in 2012, writing personal lines in all 50 states. In 2018, she started producing both personal and commercial policies. Her expertise in all lines of business across the country makes Sarah an excellent asset to the Smoller Insurance team!
Sarah is passionate about protecting animals which is apparent by her three rescue dogs that she rescued from various places around the US. She has an especially soft spot for German Shepherds -- so she is well versed in getting homeowners insurance with big dogs that insurers may consider a risk and don't realize are just sweet, loving family members.
Fun fact: Sarah is an amazing baker! She loves making her son's birthday cakes, cookies and cupcakes.
Hannah Shanefield
Hannah brings a uniquely artistic mindset to Smoller Insurance Agency's team as the Marketing Director. Her primary responsibilities include managing the business's online presence and client communication. Hannah has worked administratively for several arts organizations and is an accomplished musician herself.
Hannah echoes the Smoller family's passion for community involvement. She is an advocate for underrepresented communities in the music industry. Recent projects include programming charity concerts featuring the works of female composers during Women's History Month, LGBTQ+ composers during Pride Month, and serving as chair for the Eta Mu chapter of Sigma Alpha Iota's Benefit for Life concert, which raised money for the Sudden Cardiac Arrest Association. The latter won her the fraternity's Sword of Honor.
Fun Fact: Hannah is a classically trained soprano! Outside of office hours, she can be found gigging around Boston.